Get to Know Balle Balle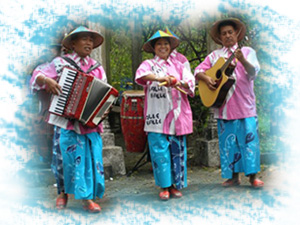 Local musician, Isnain Abd Rahim from Kampong Api Api, Kuala Selangor, is a multi-talented guy in his 50s, whose mission in life is to popularize the traditional local music to the rest of the world.

He has visited over 30 countries including England, Germany, France, Spain, Holland, Bangladesh and Belgium to get fresh and to learn the favourite folk song of the countries he visited.

It was indeed the need to be different which prompted him to invent a percussion instrument called Balle Balle. Made out of a tree branch with a string attached on each end and flattened bottle caps attached to the string, the balle balle sounds very similar to the tambourine. The Balle Balle can be played for songs with a fast and upbeat tempo as well as the usual traditional and slow tempo.

It was after this special instrument that Isnain named his six piece band. The other members of Isnain's group are his son, Abdul Hakim, who plays the Bongo, Abdul Halim plays the Timbalis, Harin Ismail plays Violin, Rosli plays Double bass/bass, Razali Salim plays Guitar and Osman Abu on the Balle Balle. Isnain himself whose father was a violinist and whose mother was a singer during the Japanese occupation plays the Accordian.

The group is very unique in their appearance and in the music that they make. Wearing tudung saji (traditional Malay food cover) for headgear, batik sarongs and colourful shirts, wooden clogs complete their outfits. Their truly Malaysian costumes look like what fisher folk in the East Coast states wear.

Having performed to dinner crowds at hotels and at international functions, Isnain Abd Rahim and his Balle Balle group will include popular Malay, Chinese, Tamil and several favourite English and others song in their repertoire.

Malay Traditional Music and Cultural Performances


Meet




Balle Balle





Unique




Performances